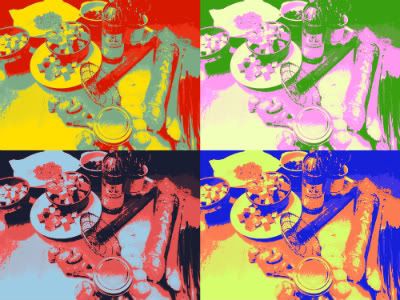 The Oakland Asian Cultural Center
is a true treasure.
Go on a Saturday and take an Asian home cooking class or learn how to carve elaborate vegetable garnishes, look at the walls with its testament to the rich pan-Asian heritage we have in Oakland, hear the kids practice their Chinese zither music, listen to the boom of the Korean drums or witness the grace, beauty and strength of Philippine folk dance or Shaolin Kung Fu. Or maybe attend a lecture, reading or performance. It is a multi-function, multi-interest kind of place. It also supports the businesses and residents of Oakland's Chinatown.
It is a living conduit of tradition, skills, knowledge and history between generations and between cultures Asian and not.
I first discovered the OACC for its food heritage and traditions cooking class. As we cooked the foods of Tibet, Vietnam, Mongolia, Korea, China, Thailand, India, the Philippines and more we were learning from someone from that culture about not just tastes and techniques but the place these foods hold in the culture. (Thanks to the
Alliance for California Traditional Arts
for co-sponsoring these classes).
Now, the OACC is in danger of losing half of its $80,000 grant from the city of Oakland in programming money.

We are in danger of losing a resource that really can not be replaced. Go the
website
, take a look at the class and programming list. Join a class, see a performance, send in a contribution and please send an email to an Oakland city council member and ask him or her to continue OACC's support. (OACC reassures me that even if you are not an Oakland resident, your support can make a difference in retaining the funding.)
Please attend the April 1 City Council meeting where the cut will be discussed.
For other ways to help (including info on how to send an email to the city council with your support) the OACC and its programming and services, please click
here
or contact Jennifer Chu, Development Coordinator, at
jchu@oacc.cc
On a personal note, I'm not Asian-American, I'm a German-Russian Jew. But I've been able to gift my sons the gift of knowing at least the traditions of their Jewish heritage through Jewish programming. I look at this as akin to that.
I also believe that its by sharing cultures, acknowledging differences, understanding similarities and enjoying the process of sharing that we grew as people and a nation. To me, that's one of the most important things OACC offers. I hope you'll join me in making sure all that OACC does is not snuffed out.
Update 4/5/10: OACC thanks all for support. They expect to know more within a few weeks.
------------------------
About the photo: Some ingredients from the Filipino cooking class. You can see write ups, photos and slideshows of some of the classes
here
.